Buddha Cat Press
Sacred Beings by Karen FIorito
Karen Fiorito
Buddha Pig
2012
5-color Silkscreen with Pearlescent White
Edition of 50
Signed and Numbered
$70
Buddha Pig is part of an ongoing series of images of animals as deities. I chose a pig because I believe pigs are no different than dogs or cats. In fact, pigs are the fourth smartest animal group in the world, following humans, apes, chimps, whales and dolphins.I believe that all animals have a buddha nature, especially pigs. Pigs are also extremely social and loving creatures. Pigs snuggle close to one another and prefer to sleep nose to nose. They dream, much as humans do. In their natural surroundings, pigs spend hours playing, sunbathing, and exploring. In his book The Whole Hog, biologist and Johannesburg Zoo director Lyall Watson writes, "I know of no other animals [who] are more consistently curious, more willing to explore new experiences, more ready to meet the world with open mouthed enthusiasm. Pigs, I have discovered, are incurable optimists and get a big kick out of just being."
20% of all proceeds of any Buddha Animal purchased will go to help Hollywood's Least Wanted, Hollywood Least Wanted is a 501c3 non for profit arts organization whose goal is to make a difference in the community where it exists, both in Hollywood and in the larger Los Angeles community. HLW sponsors produces and publicizes charitable arts events that raise funds for organizations that serve the underprivileged, victims of abuse, homeless teens and abandoned animals, as well as other deserving recipients.
New Print by Karen Fiorito
Goddess of Print
6-color reduction cut
24" x 32"
Rives BFK paper
Edition Size: 5
APs: 5
$300
Artist Statement:
This reduction print is based on the Hindu legend of the Goddess Durga:
A long time ago, the world was in great peril. War and famine were widespread, and demons ruled the earth. The great demon Mahisasura, who took the form of a bull, was their leader. Despite all their efforts, none of the male gods could defeat the demon. The gods retreated from battle and summoned a goddess, for it was foretold that only a woman could save the world from such destruction. Out of a supernova of their collective energies appeared the Goddess Durga with 10 arms riding a tiger. She defeated Mahisasura and his army. Peace was restored and the earth was healed. Although the people of earth begged her to stay and rule them, she refused. "That is not my way," she said, "but if ever you need me again, just think of me, and I will come."
I have recreated this image of the Goddess Durga and replaced her weapons with tools used in printmaking. She represents the creative, emotional, compassionate and powerful aspects of the divine feminine. Durga is the destroyer of ignorance and represents determination and will power, fierce compassion and patience. I believe that only through these qualities can we bring about peace on earth and to all of its creatures. My hope is that through my art I can cultivate these aspects of the divine feminine and inspire others to do the same, whether they be male or female,
"Pretty Polly"
Serigraph on Stonehenge Paper
Size: 15" x 22"
Edition # 50
Price: $300 + Shipping and Handling
Signed and numbered by Gee Vaucher
Printed by hand by Karen Fiorito (with a special cameo by Gee Vaucher)
Artist Statement:
"All humans are animal, but some animals are more human than others."
Artist Bio:
Her work with Anarcho-punk band Crass was seminal to the 'protest art' of the 1980s. Vaucher has always seen her work as a tool for social change and in her collection of early works (1960-1997) Crass Art and Other Pre Post-Modernist Monsters, her artwork moves easily from gouache, pastel, collage and everything in-between, to show her strong political, and feminist views.
In Vaucher's second book, Animal Rites, she reflects on the relationship between animals and humans. This book of collage work comments on our determination to imbue animals with human behaviour and sentiments.

"Fat Cat"
Serigraph on Stonehenge Paper
Size: 15" x 22"
Edition # 40
Price: $100 + Shipping and Handling
Signed and numbered by Peter Kuper

Artist Statement:
As the wise old cat was heard to say:
"If life is a bowl of cherries, can I have a second bowl?"

Description:
This is the second image taken from the book, The Last Cat Book (1984), in which Kuper illustrates an essay on the value and 
nature of cats by Robert E.Howard, an American author best known for his character Conan the Barbarian.

The original 49 prints were carved from linoleum blocks, then printed by hand by the artist. Each image was only printed once 
or twice and never editioned. We have chosen to reproduce a few of these linoleum prints using serigraphy (silkscreen). 
This image of Fat Cat was printed on top of a split fountain background on archival rag paper.
As with ALL Buddha Cat editions, EVERYTHING was printed BY HAND!
Email This e-mail address is being protected from spambots. You need JavaScript enabled to view it to purchase or for more information.
Peter Kuper Prints and Tees
Peter Kuper and Buddha Cat Press are releasing a limited edition print and t-shirt!
Ying Yang
is a one color silkscreen to be included in the
Evolution Revolution: The Interconnectedness of All Beings
exhibition.
Based on a linoleum cut by the artist. Signed and Numbered. Edition of 50. 15" x 22" on Stonehenge paper. $60 plus shipping and handling.
Artist's Statement:
"When I quoted Saul Bellow's line " In an age of madness to be untouched by madness is a form of madness" to my cat, she replied, "Prrrrrrrrr" I couldn't have agreed more and promptly created this image." -Peter Kuper
SPECIAL OFFER!
Buy a limited edition t-shirt of Phoenix Cat in addition to your print for only $75! *T-shirts sold individually at $25.
Bio:
Peter Kuper co-founded of the political zine World War 3 Illustrated and has remained on its editorial board for 30 years. His illustrations and comics have appeared in Time, The New York Times and MAD where he has illustrated SPY vs. SPY every month since 1997. He has written and illustrated over twenty books including The System and Stop Forgetting To Remember.
Peter has also adapted Upton Sinclair's The Jungle and many of Franz Kafka's works into comics including an award winning version of The Metamorphosis. Peter lived in Oaxaca, Mexico from July 2006-2008 and his work from that time can be seen in can be seen in his latest book Diario de Oaxaca.
Buddha Cat on Huffington Post!
The Work of Buddha Cat Press at Urban Sanctuary Gallery, Boyle Heights, July 16 - July 31
Karen Fiorito's Buddha Cat Press enjoyed a small survey show at the Urban Sanctuary gallery in Boyle Heights. BCP has published and produced screen print editions for an impressive panoply of artists. A print from many of these editions was on display along with a large sampling of Karen's own politically charged work.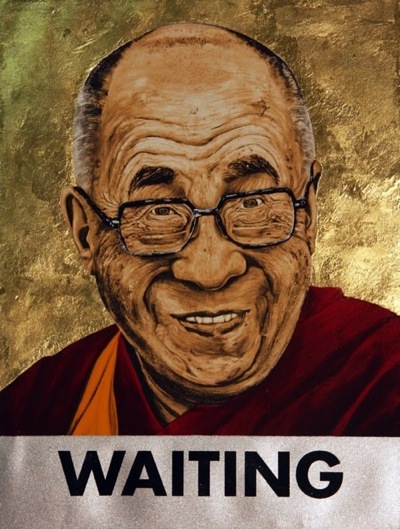 Robbie Conal's Dalai Lama portrait includes a layer of gold leafing

Any small screen-printing publisher would have bragging rights for publishing or co-producing an edition by just one of the many big names that Buddha Cat Press had in this exhibit. In the show, L.A.'s original street artist Robbie Conal had two triptychs published under Karen's supervision in the past few years, each featuring an iconic portrait (Dalai Lama, Hendrix, etc.) with a slogan underneath which comprise a larger theme and summarize the works of these men.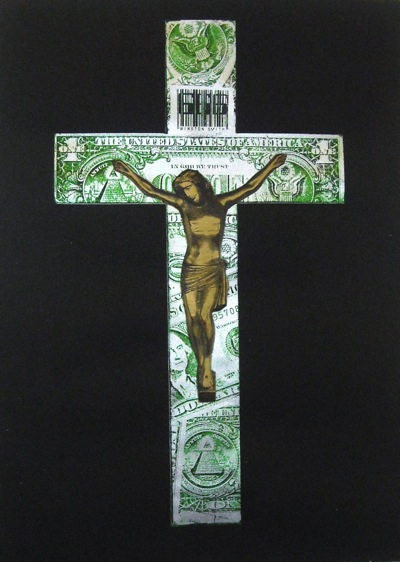 Winston Smith's arresting critique of organized religion is familiar to any aficionado of punk rock
If Conal is too hippie for you, Fiorito has co-published work by Britain's Gee Vaucher, the artist who worked with Crass, as well as Winston Smith, responsible for adding the most arresting images to Dead Kennedys albums. In fact, Smith's image of Christ on a cross of money under a barcoded 666 (the cover of the DK's 1981 "In God We Trust Incorporated" EP) was published (in conjunction with Paperworks Laboratories) last September on black background titled simply "Idol".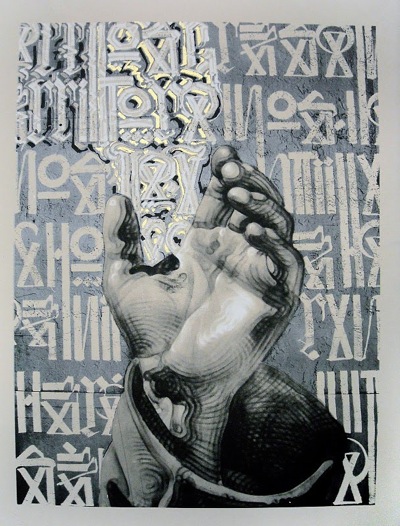 Street art roots translate seamlessly into fine art, here in a collaboration between El MAc and Retna for Buddha Cat Press
While Conal, Vaucher and Smith establish a punk backbone and political seriousness to the small publisher, Buddha Cat Press has street credibility too. Urban Sanctuary Gallery had BCP editions from well-known graffiti calligraphists Chaz, El Mac and Retna on display along with a print edition on paper of photographer Estevan Oriol.
Amidst these icons, all represented with quality images, expertly presented and hung unframed, backroom style with paper clips, there were fine art prints that extolled themes of beauty and composition. They were without the benefit of an established name; they were, however, exquisite enough that politics were not needed to deliver their message of a search for that tranquil moment of transformation to which all great art aspires.
Buddha Cat Press has not printed itself into a corner with one approach to aesthetics or one type of street slogan. It is the epitome of interesting Los Angeles art to draw from more schools of influence than pizza toppings available at a restaurant; BCP epitomizes the making of a melody by embracing the complete cacophony of L.A. that the best art of our time seems to return to again and again.
There was no theme to be derived from the wide variety of images in this show save for the possibilities that arise when the personal and the political are curatorially interwoven, when the calligraphic and the organic coexist on the same wall space, and all of it under the precise printing skills of Karen Fiorito.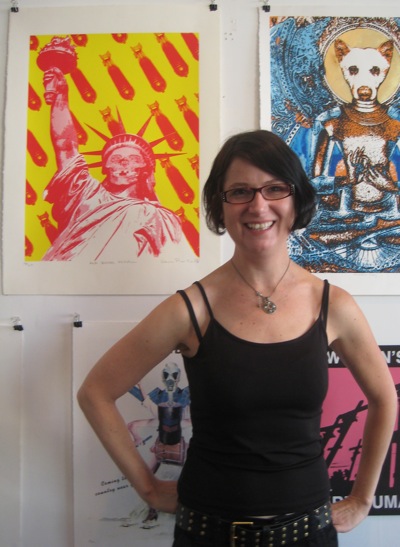 Karen Fiorito at Urban Sanctuary Gallery in Boyle Heights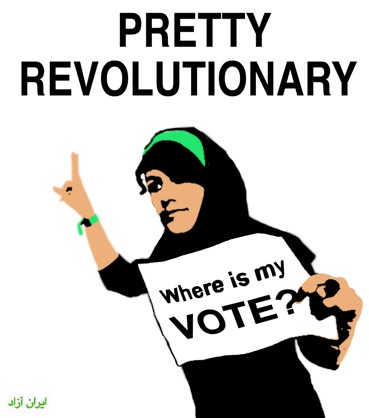 "Pretty Revolutionary" - a print by Karen Fiorito and Monet Clark.
Thanks to our friend Matt Gleason for this awesome article on our show at Urban Sanctuary!